Introduction
Nowadays, gaming computers have become a necessary component for people who love to play games and spend their time experiencing the engaging storylines of different video games. In the last couple of years, many innovations have been made to gaming technology, bringing revolutionary changes in many aspects. With such innovations and modifications, gaming has become one of the leading businesses where players worldwide participate in various competitions.
---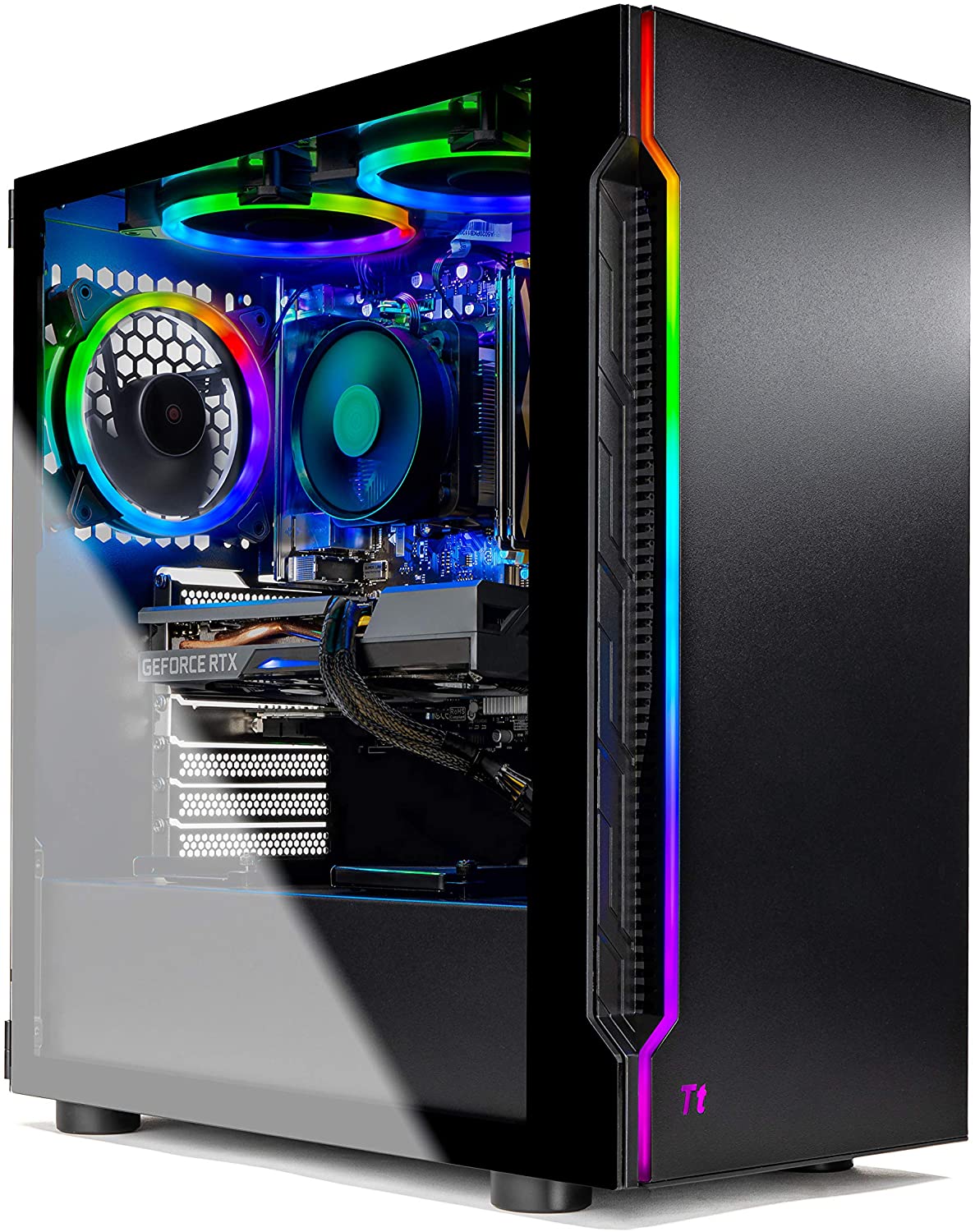 Summary
Shadow Gaming 3.0 is the perfect solution to enjoy and spend quality time on modern games with a comprehensive list of useful features and valuable components. Also, finding a gaming computer with such high-performance output is not easy. If you want to purchase a pre-built gaming computer, we see no other option except Shadow Gaming as its powerful processor and excellent GPU provide good FPS.
---
Excellence of SkyTech
SkyTech has emerged as one of the leading brands that manufacture top-quality, high-performance gaming desktops with a wide variety of services. The most admirable series of SkyTech gaming computers is the Shadow Gaming Series, renowned for its efficient processors and functional RAM.
BY integrating optimum memory Nvidia Graphic Cards, the gaming experience is enhanced to another level where a gamer could feel inside the game. With several features and benefits, there is no reason to doubt the comfortability that SkyTech offers.
SkyTech Shadow Gaming 3.0
Since the day SkyTech introduced their gaming beast set up in the market, a tornado occurred in the gamers as they rushed towards the product to enjoy their favorite games on the new gaming platform. On several online shopping platforms and local gaming stores, Shadow Gaming 3.0 also proved itself one of the best sellers.
SkyTech Shadow Gaming is a pre-built computer that is mainly designed for gaming purposes. There are many notable reasons why Shadow Gaming 3.0 became so popular in a short time. Such as, it offers gamers a comfortable, smooth, and high performance not only in gaming but also in the general tasks and functions of a PC. It is deemed as one of the best gaming computers under $1500.
Moreover, SkyTech Shadow Gaming 3.0 is available in different variants that you could buy from online platforms such as Amazon or get from the local gaming stores.
Features of SkyTech Shadow Gaming 3.0
The features of SkyTech Shadow Gaming are way too remarkable, especially if you consider the price tag. With useful features, Shadow Gaming 3.0 is also listed among the most budget-friendly gaming desktops. The RGB lighting of the desktop can be configured with fans and lights. With built-in Wi-Fi and pre-installed Windows 10, the need for extra drivers is eliminated. The desktop comes with several USB ports for mouse and keyboard connectivity. From processor to FPS, every feature will be discussed in detail in this review article. Below are listed a few unique features that help the readers and gamers understand the functioning of Shadow Gaming 3.0.
Gaming Performance
Central Processing Unit (CPU)
Video Card (GPU)
RAM
Storage
Design
Power Supply (PSU)
Motherboard
Operating System (OS)
Dimensions
Above is the list of the features that you can experience and enjoy the ultimate gaming time. Let's start enfolding each of the remarkable features.
Excellent Gaming Performance
The gaming performance is a result that happens due to the combination of processor and graphics card of a gaming computer. The highest performance is delivered to the gamers with the Intel processor of 1.6 GHz and Intel UHD 620 Graphics. The processor and video card used in the Shadow Gaming 3.0 are made of the latest technology that is why they provide maximum output.
Suppose you are wandering to play high-performance games such as Assassin's Creed Valhalla, Cyberpunk, Call of Duty, Battlefield, Apex Legends, Players Unknown Battle Ground (PUBG), and Grand Theft Auto V on high or ultra-options. In that case, the combo of Intel products is the perfect solution. This video card and processor combo would allow you to have 100+ FPS without any lag or delay in the gameplay. Moreover, with 8 GB of RAM, processing becomes perfectly smooth. In other words, non-tech geeks will be able to play their favorite games without any technical trouble. Also, with a monitor of a 14inch FHD display, you will experience yourself inside the game.
Central Processing Unit (CPU) – Best Processing
In Shadow Gaming 3.0, SkyTech uses Intel's brand-new processing technology, making every function delay-free and increasing workflow. Although the video card is considered the vital component of a gaming computer, a productive processing unit is also of much significance. A video card should be compatible with the processing unit of a gaming computer; otherwise, you cannot play any games on it.
The processor of Intel Core i5 provides 1.6 GHz, which guarantees an excellent gaming performance. This processor of Intel is made of the latest technology and is specially designed for gaming objectives. By purchasing SkyTech Shadow Gaming 3.0, you will get this powerful processor at the most economical rate.
Due to an efficient processor, the computer can run any game that sits perfectly with the specifications of the Shadow Gaming 3.0.
Graphic Card (GPU) – Best Intel Graphic Card
Whether you buy a gaming laptop or desktop, the first question that comes to your mind is what graphic card the system has?
When it comes to gaming computers, the only element that provides a base for tension-less gaming is the performance and features of the graphic card. In SkyTech's Shadow Gaming Series, graphic cards of Nvidia, Intel, and AMD are used. However, in the Shadow Gaming 3.0, Intel's graphic card is installed called Intel 620 UHD Graphics. The video card's performance is exemplary according to its title, which is "Ultra HD." As a part of the latest series of video cards, the card is mainly manufactured for gaming purposes. Also, if you are a video editor and edit videos for hours and hours, then Intel's video card will offer you flawless functioning.
Most importantly, the ray-tracing technology in the graphic card allows one to experience real-time reflections of the games. This feature makes the Intel video card distinctive from others.
In addition, the graphic card offers you good FPS, and on ultra-settings, it will provide FPS on average. Thus, in any case, your gaming experience would not be disturbed.
RAM
Our next feature of SkyTech Shadow Gaming 3.0 is the RAM. RAM is indeed the most straightforward component in both regular and gaming computers. A RAM is configured and manufactured to operate multiple operations at a time. It also assists the processor in opening and stores things quickly so the users could load things faster. In simple words, the more RAM one has in the computer, the faster the performance will be.
In Shadow Gaming 3.0, you will get a RAM of 8 GB which ensures smooth gaming. The DDR4 RAM of 8 GB speeds up the performance from 2000 to 3000 MHz. Though, 16 GB of RAM is the most suitable approach for gaming as the need for up-gradation is reduced. However, 8 GB RAM is considered the optimum method to run high-end games smoothly and without lagging.
Storage
A gaming computer is regarded as the best computer if it has an SSD of optimal storage. Similarly, by keeping the new models and trends in mind, SkyTech installed an SSD of 256 GB which allows one to store and install several games.
Nevertheless, it is criticized by the critics and experts of gaming computers that more storage should have been offered rather than 256 GB. Though the drive is of the latest technology, installing three to four games can be filled up quickly. In a typical gaming computer of $1500, it is recommended that storage should be of 500 GB SSD.
Design
The design of Shadow Gaming 3.0 is quite sleek and elegant. It comes with a glossy black cover and glass chassis. A pre-installed RGB strip on the front provides an excellent look. For maintenance of airflow, a small vent-like grill is present at the front panel, which plays an essential role in cooling the desktop.
On the side of the tower, a vivid glass wall gives the most elegant appearance as you can see the RGB lights, Central Processing Unit, GPU, and other components of Shadow Gaming 3.0. For cooling purposes, two small fans of 120mm are attached to the casing. However, in such a high-tech gaming computer, we suggest that there should be a radiator instead of fans to provide more active cooling.
If we look at the rear side of the casing, we will find several options for connectivity. Two USB ports are offered to connect the keyboard and mouse. Headphone jacks are also integrated. Buttons are given to control and configure RGB lights according to your requirement. Overall, the design of the SkyTech Shadow Gaming 3.0 is pretty professional and compact. It is a space-saving model which can be adjusted anywhere with ease.
Power Supply Unit (PSU)
Without a power supply, a computer cannot run. For many experts in the gaming field, the power supply unit (PSU) is also of great importance. As per the gaming lovers, no compromise should be made over the power supply as the power supply's cheap quality could harm or burn the expensive components of a computer.
Generally, it is suggested that a gaming desktop should have a power supply unit (PSU) from 500W to 600W. However, there are no significant differences between a power supply of 500W and a power supply of 600W. Both perform well and provide flawless work.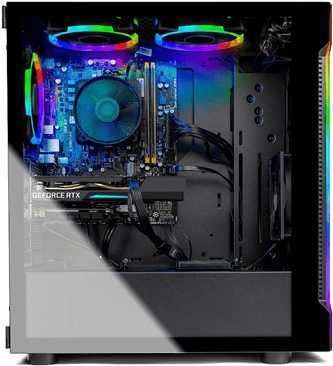 Motherboard
For every building, the base is the most crucial factor. A strong base is evidence that the construction of the building will be progressive and efficient. Similarly, when it comes to gaming computers, motherboards are chosen with much care and detail.
Gamers who want to build a gaming PC face many challenges if they don't know the tidbits about the motherboard. Therefore, it is recommended that they buy a pre-built gaming desktop instead of buying components and installing them.
The latest technology B450 motherboard of Shadow Gaming 3.0, comes with PCIe slots that collaborate to enhance the performance of graphic card and processing units.
Operating System (OS)
Now, it is time to discuss the operating system of SkyTech Shadow Gaming 3.0. Almost in every gaming computer of Shadow series, Windows 10 is installed as the primary operating system. The only reason why SkyTech chose Windows 10 is due to its convenience. Moreover, features in Windows 10 are hard to find in other operating systems such as iOS or Linux.
The operating system is an essential factor in both regular and gaming computers as they provide user-friendly interaction to the users. It allows the users to operate and command the system to execute various tasks and programs.
Dimensions of SkyTech Shadow Gaming 3.0 – Compact Design
As told earlier, the unique and perfectly calculated dimensions of SkyTech Shadow Gaming permit it to be one of the most compact and elegant gaming computers. The height of Shadow gaming is 41.6 cm. While the length is 45.4 cm, the width of the desktop is only 21 cm. All such dimensions of the SkyTech gaming beast make it a space-saving model. In addition, the weight of the computer is quite heavy. It weighs around 12 to 13 kilograms. That is why experts often question its mobility.
Specifications of SkyTech Shadow Gaming 3.0
After reviewing the excellent features of Shadow Gaming in detail, we will now mention the specifications of our high-end gaming platform so that a better and comprehensive overview can be represented to our readers.
Below are listed the significant specifications of SkyTech Shadow Gaming 3.0.
Case
Thermaltake H200 TG RGB, Black
Fans
Three RGB Fans
Motherboard
B450
Processor
1.6 GHz Intel Core i5-10210U
RAM
Graphics
Memory
Operating System
Weight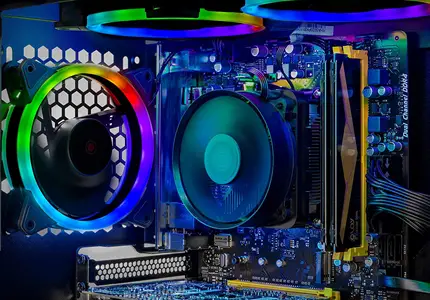 Pros and Cons of SkyTech Shadow Gaming
A review article is incomplete if there is no section regarding the pros and cons of a product. But, in gaming computers, it becomes indispensable as you do not buy gaming computers every day. Thus, after testing the system and running some of the few trendy games, we compiled some advantages and disadvantages of the SkyTech Shadow Gaming. These pros and cons are listed as follows.
Pros
Elegant Design
Economically Fair
Runs High-end Games
Top-Quality Materials
Latest Technology Components
Powerful Processor
Sufficient RAM
Optimal Memory
Cons
Expensive (if compared in terms of storage).
AM will be upgraded for modern games.
Gets Hot at high-end games.
Fans make noise
Which Games Can You Play on SkyTech Shadow Gaming 3.0?
Built for ultimate gaming, SkyTech Shadow allows you to play as many games as it remains compatible with the specs of the gaming computer. The computer is designed to handle AAA titles easily, and its 14-inch FHD display permits you to play games on 1080p resolution. Games like Call of Duty, PUBG, Battlefield, FIFA, MotoGP, Bradman Cricket, Fortnite give 60+ FPS on high settings. Interestingly, a high-end game such as Red Dead Redemption runs smoothly on the system by opting for medium or low settings.
However, just for the satisfaction of our readers and those who are considering buying this gaming beast, we have tested some trending computer games. The results were excellent, and we decided to record the minimum and maximum FPS to help our readers evaluate the functioning of Shadow Gaming 3.0.
Below is given a list of different games, along with the FPS that we recorded.
Cyberpunk 2077
Offers 50 FPS at 1440p and 70 FPS at 1080p.
Call of Duty Warzone
150 FPS at 1080p and 110 FPS at 1440p.
Fortnite – Chapter 2
150 FPS on 1080p and 120 FPS on 1440p.
Valorant
Offers 230 FPS on 1440p and 240 FPS on 1080p.
Tom Clancy's Rainbow Six Siege
350 FPS on 1080p and 300 FPS at 1440p.
The Witcher Wild Hunt
Offers 100 FPS at 1440p and 130 FPS at 1080p.
Things to Consider When Buying a Gaming Computer
A gaming computer is a relatively expensive product that is not replaced or bought day after day. Thus, with so many competitors and options available in the market, there are several factors that a buyer should consider before purchasing a gaming setup. A gaming setup has several elements which play a pivotal role in its performance. That is why their basic knowledge must be known to every buyer.
Central Processing Unit (CPU)
Without an efficient CPU, a gaming setup is nothing. No matter how effective a graphics card you have in the system, it alone cannot run and sustain the burden of high-end games. Nowadays, there are many manufacturers of CPUs such as Ryzen, Intel, and more. Choosing Intel or Ryzen is entirely dependent upon the user's preferences. However, when it comes to gaming, then the Ryzen processors are recommended for smooth functioning.
Graphic Card (GPU)
It is said that an excellent video card makes an efficient gaming computer. Alone, GPU cannot run games. Similarly, the CPU also cannot run any game on its own. It's the combination of CPU and GPU that runs a game perfectly. A buyer should pay attention to the graphic component of a gaming setup when buying a gaming computer. Several brands make graphic cards, and the most renowned brands with outstanding performance are Nvidia, AMD, and Intel.
Moreover, there is a difference among the types and models of the GPUs. For example, RTX 2060 is budget-friendly and gives the most excellent performance, while RTX 2070 also provides the same features, but it is expensive compared to RTX 2060.
RAM
RAM is indeed the third most crucial component of a gaming computer. Today, a model gaming computer is considered to have 16 GB of RAM. However, if you want to go with 8 GB, it's also appropriate in many cases. Various high-end games run smoothly without any technical error on 8 GB RAM if your gaming setup has a powerful processor and high-performance GPU. For example, games like Fortnite, PUBG, Call of Duty Warzone, Grand Theft Auto V, Battlefield, Doom Eternal, Destiny 2, The Witcher, and Overwatch could run as smooth as butter on 8 GB RAM.
Interestingly, RAM can be upgraded according to the requirements of the games.
Solid-State Drives (SSD)
The time had gone when it was nearly impossible to afford an SSD for better performance. Not only in the gaming sector, but SSD has significance in several computing sectors. The performance of an SSD is hugely better than that of an HDD. Their functioning capacity is faster than regular HDDs. Also, with innovations, now SSD is available in huge storages such as 750 GB and 1 TB.
However, from the gaming point of view, an SSD of 512 GB is sufficient as it can store Windows and several modern games.
Cooling and Noise Though cooling is not related to the performance of a gaming setup, it impacts the overall experience of gaming. Usually, with the latest solutions such as water cooling radiators, piping, and multiple fans, cooling issues are significantly solved. Still, when running some high-end games, gaming setups do get hot.
Conclusion
After an in-depth review of SkyTech Shadow Gaming 3.0, now it's time to conclude. Overall, if we discuss some of the best gaming setups under 1500, SkyTech Shadow is inevitable. Shadow Gaming 3.0 is the perfect solution to enjoy and spend quality time on modern games with a comprehensive list of useful features and valuable components.
Also, finding a gaming computer with such high-performance output is not easy. If you want to purchase a pre-built gaming computer, we see no other option except Shadow Gaming as its powerful processor and excellent GPU provide good FPS. If you want to boost your FPS in CS:GO you should check out TheGlobalGaming!
By purchasing SkyTech's gaming beast, you can turn your room into a mini gaming zone!