Wondering how to use the fishing rod in Valheim? Well, you've now found the right place. There are many ways you can get your protein fixed in Valheim, and one of them is fishing. Sure, there's lots of work to do in the Viking afterlife. However, you can easily find some time to relax and catch fish. In this guide, you'll learn all about fishing in Valheim, including how to find and use the fishing rod. So let's get started!
Quick Guide
Find the best fishing rod you can (see guide below)
Make sure to fully cast your line as it provides better value fish
Be patient because eventually if your line is on the deep surface, you are bound to catch fish
Make sure that you have enough stamina in order to fish. If not you won't be able to pick the fish up.
Lastly, when it comes to fishing, finding the right location matters a lot. You should consider focusing on a large body of water. This includes either a large lake that you can find or even the side of your island.
Table of Contents
How To Find The Fishing Rod in Valheim?
Now, you must make sure to find a fishing rod. This part is not easy as it is sold by a dwarf who's named Haldor. His location is quite different, and finding him is not an easy task at all. Apart from that, did you know you could hop between servers while maintaining your skills?
Simply exit your main world, enter a new one, name it trader. For the seed, simply add 42069lolxd. 
Moving on, the crow will drop you at a location, and this is where you need to find the suitable direction. You need to keep going towards the south for a few minutes. There you find a massive mountain; however, avoid the mountain and keep moving forward. Once you find the shoreline move a little more towards the south, which will get you towards a corner where you can go across towards the black forest. 
Now be consistent on the path until you find a small bag on your map. This is where the Haldor is. He has a lot of stuff that he wants to sell, such as the yule hat, a Dverger circlet which is known as a source of light, so the player doesn't need to carry heavyweight equipment with them.
Moreover, he also has Megingjord that helps in enhancing the inventory with the addition of fishing equipment. Once you find Haldor, your task will become a lot easier! 
How To Use a Fishing Rod? (+ video)
Did you purchase a fishing pole and rod and have no idea how to start fishing in order to fill your stomach? Well, this guide is going to make you a pro at fishing in Valheim! 
Now, to start fishing, you need to go to the river or the ocean. Here, you're supposed to look for the area that has the most fish. Trust me, spotting them is not going to be a hard task at ALL! Moving on, once you're done finding the place in order to cast your press, all you need to do is press and then hold the left mouse button.
This will end up charging up your cast! It sounds like child's play! However, you must keep in mind the longer you hold the button, the longer your cast is going to be. Keep in mind that you need to press the right button first in order to get the fishing rod out of inventory. 
Once you've cast out your lines, you need to carefully observe the area that is surrounding the bobber. If you see any bubbles here, this means that the fish is actually interested in your line. Now, once you observe the bobber dipping beneath the water, all you need to do is press and hold the right button mouse in order to hook the fish and also start reeling.
If you're successful, you will see a message in the game stating 'hooked.' If not, it's time to give it another shot! 
Moving on, once you've reeled in the fish, you will be able to pick it up. Do not wait for a while when doing this, as the fish may end up escaping. Remember, the entire thing needs to be done as quickly as possible!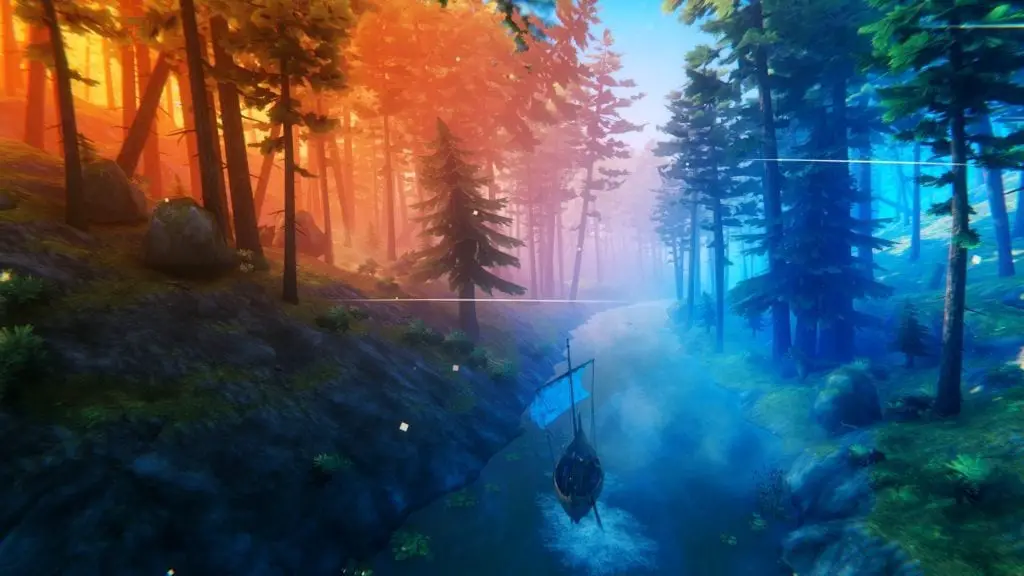 Things To Consider When Fishing
There are a lot of basic things that you need to understand while going forward fishing in Valheim. The player needs to go round and perform tasks in order to progress in the game while making sure he has enough energy to go further. The gameplay is quite simple as there are three main things that you need to consider as a player. The first thing is to find Haldor, who resides in the Black Forest. 
Moreover, make sure you have enough coins to buy a fishing rod or a fishing pole. The number of coins needed to purchase the fishing pole is 350. In addition to those 350 coins, you also need additional coins in order to gain more catch. Moreover, a player also needs 50 baits which is why you need to have additional ten coins to get those as well.
Conclusion
Valheim can be relatively complex at the beginning; however, once you get the hang of it, you will realize that the gameplay is quite simple as it is all about collecting coins and using them the right way.
If you play your cards right from the beginning, you will easily manage to find the black forest where you can find the right merchants who will lead you towards the equipment you need, including the fishing rod.
We hope you enjoyed our guide on how to find and use the fishing rod in Valheim. Please share this guide with all your struggling Valheim friends. Comment down below if we missed anything.