Genshin Impact introduced us to the world of Teyvat where anything is possible and people live in a fantasy universe while still abiding by laws of commerce, supply, and demand.
That means that it is home to a multitude of vendors that have various items for sale, at different prices.
There are currently over 20 vendors all around Liyue and Mondstadt and one of those vendors happens to be Chloris.
Quick Guide
You can find Chloris between the times of 6:00-19:00 or 6 am to 7 pm
Chloris' important has important trades such as Wolfhook, Valberry, and Philanemo Mushrooms which can be used for leveling up items and characters
Chloris replenishes her supplies every three days in Genshin Impact
Table of Contents
Chloris' Background Information
Chloris is a vendor that you will come across in your travels although she is easy to miss as she is not located in any fixed spot in the city. Instead, she can be found wandering Mondstadt looking for different biological samples to investigate.
When you first meet Chloris you can inquire about her work as well as who she is and she will let you know that she is the big sister of Flora who owns the flower shop in the city of Mondstadt. She is the best botanist in Mondstadt but unlike her little sister, she is interested in all forms of life and loves to study both flora and fauna.
Chloris is a little socially oblivious as she spends most of her time with plants. She has a broad interest in all plants and that is why she doesn't have the best tact when talking to other people. She will often refer to you as faunal contact, bringing you down to the level of boars and foxes.
As for her physical appearance, Chloris appears as a small child, looking very similar to her sister Flora. She carries a brown backpack and dons a brown leather cap. She can be seen wearing a dress and will definitely stand out when you find her so close to Hilichurls and Slimes in the Windrise area.
Chloris' Location (with map)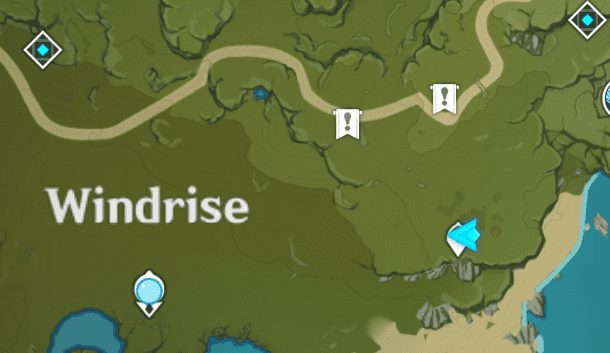 Chloris doesn't have a fixed place where she can be found at all times as she is constantly roaming around but the only area that she is limited to is that of Windrise. That is the only place that she can be found and most often you'll see her standing next to ruins talking about plants.
If you are having trouble finding her then I recommend checking the path that is already present on the map and the area near that path. She can most often be found standing under a tree near that path so you shouldn't have much trouble finding her.
Chloris' Working Hours
Unlike most characters in Genshin Impact, Chloris is not afraid of the wilderness and the dangers that it has to offer. She is however still cautious about spending time outside and thus can only be found from 6:00-19:00. If you are unfamiliar with the 24-hour clock it means that she can be found wandering Windrise from 6 am to 7 pm.
Genshin is mostly dependable when it comes to character availability during specific times but if you're having issues with finding her then you can just stay in the area that she is normally found in and fast-forward time right there. Genshin Impact allows you to change the time of day in-game so there is no need for the extra effort. All you have to do is go to the in-game clock and change the time without having any adverse effects on your world.

Chloris' Inventory
Chloris is a botanist so that means that all the stuff that she has to offer are plants that can be found in Mondstadt. She has 5 different things for sale and her entire shop can be seen below.
| | | |
| --- | --- | --- |
| Item | Price (Mora) | Quantity |
| Snapdragon | 280 | 10 |
| Mint | 150 | 10 |
| Wolfhook | 1000 | 5 |
| Valberry | 1000 | 5 |
| Philanemo Mushroom | 1000 | 5 |
That is all of the stock that she has to offer for players and her stock replenishes every three days.
Why is Chloris Important?
After reviewing the above information you must be willing to know why is Chloris important? I personally love Chloris as a vendor because of the items that she offers and how frequently she restocks. Wolfhook, Valberry, and Philanemo Mushrooms are important for character ascensions and can be hard to get a hold of since they can only be found in Mondstadt and that too in specific areas.
Buying regional specialties from her also counts towards the battle pass objective where you have to get 100 regional specialties from both Mondstadt and Liyue. She is one of the few vendors that provide regional specialties and her prices are pretty cheap considering what other vendors charge for their regional specialties. 
Conclusion
Chloris, just like many of the vendors is someone to keep in mind. With her really good trade items she is definitely someone you should plan on going back to later in your journey of Genshin Impact. With the map and time frame included above, we hope your searching for where is Chloris in Genshin Impact is easy and smooth. Please share this with all your fellow Genshin players and comment down below if we missed anything!
Does Chloris sell Valberries?
Yes Chloris sells valberries. You can find her on a close to Windrise patrolling around
What does Chloris sell in Genshin Impact?
Chloris sells Snapdragon, Mint, Wolfhook, Valberry, and Philanemo Mushroom in Genshin Impact.
Who is related to Chloris in Genshin Impact?
Chloris is the older sister of Flora. Flora is a vendor in Mondstadt who mainly focuses on selling flowers.