New World takes a huge toll on its loyal players giving them a hard time and a long while at it when things come down to leveling up. Now be it for jewel crafting, weaponsmithing, armorsmithing, or mining, everything takes time and requires consistent effort and patience. In the New World, every single thing counts unbiasedly. You have to work hard to obtain everything and level up with honesty. 
In addition to that, you also need to gather resources when you're mining and they can be very difficult to track, discover, or mine for. These resources are used to craft different materials that help you boost your character in different aspects. However, to get those valuable resources, you need to mine for them at different levels. Mining can be a very tardy and time-taking activity but there's a smart solution to it. It still doesn't make your mining and tracking levels shoot to the skies at a moment's notice, but it provides consistent amplification of the levels at the very least.
Table of Contents
There are myriads of ways you can use mine but this article consists of ways that will make you a pro at it. By the time you're done with this, you're going to be familiar with ways that will help you mine more effectively, yield better results, and know optimum places to mine in harmony. 
What Mining Gears Exist in the New World?
Finding a good place to mine is good and all but that's not all you need to know in the New World. If you want to mine well, you need to have tools well. That being said, in the New World, there are numerous kinds of materials available to make tools for you. In this case, it has to be a pickaxe. A pickaxe is a primary choice any New World player needs to make when it comes to mining. You can craft a pickaxe by yourself in almost all the settlements out there. It is also the most important equipment as a Mining gear in your arsenal.
One of the most basic pickaxes out there is Flint Mining Pickaxe and it's easily accessible and found through opening multiple quests at the start of the game. The great thing about this pickaxe is that it doesn't require too much crafting on your end. 
Now, if you're wondering whether this is the only pickaxe available throughout the game, it's not. Pickaxes come with different rarities and each gets unlocked as you go higher on the ranks table. It also affects the mining speed and how much you can collect and gather as you mine bigger and deeper. Following is the breakdown of all the pickaxe rarities in the game and their mining speeds
Flint Pickaxe: 100% mining speed
Iron Pickaxe: 125-225% mining speed
Steel Pickaxe: 250-350% mining speed
Starmetal Pickaxe: 400-550% mining speed
Orichalcum Pickaxe: 625-850% mining speed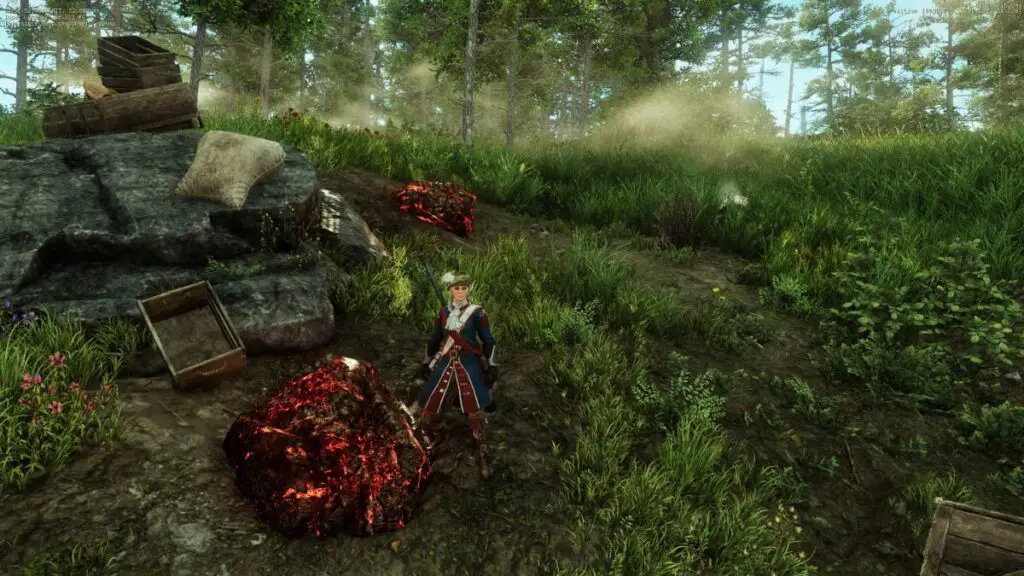 Where to Start Mining From?
Now, even though you have a flint pickaxe to mine with, it is rather difficult to find a mining area that yields high produce of ores for you. However, it is still possible to solve the dilemma without too much effort. You can simply open the maps and search the map by Resource Locations. Depending on the requirements, you'd be looking at ores for now and the map can help you terrains where you can spawn multiple resources in ample amounts. The best place to start your New World career is certainly Windward, Everfall, and Monarch's Bluff. But if you're looking for iron and silver ores, there's no better region than the Highland region when it comes to that.
How to Mine Like a Pro in the New World?
Mining is one of the most important things to do in the New World if you want to level up or simply even stay alive in the long run. You might be okay with whatever tools you own or what you craft at the starting point but over time, things not only lose their potential, they also aren't worthy enough as you level up and need more. With mining, you get multiple resources that help you craft great things which end up making your stats boost or enhance your abilities.
One needs to realize that there exist numerous types of mining resources in the New World and every mining act requires different skill levels at which you can get valuable outputs from mining as well as track in Aeternum. If you are eager to become a pro when it comes to mining in New World, you should follow these quick tips. While mining, you will come across different resources. It's always better to collect them for later.
Mining and Tracking Levels
It's all about gathering better resources when it comes to mining and it's not just to enhance a player's abilities or stats. You can use those resources to amp up the abilities and mining speed of your pickaxes as well. However, to get to do that, you're going to need mining experience. Resources open up from time to time based on the experience you get and be used to amplify what your normal Flint Pickaxe can do. This results in a high yield and makes you gather resources at a quicker rate.
Following resources are made available for you as your mining and tracking levels increase:
Iron: Mining level 0, tracking level 25
Silver: Mining level 10, tracking level 35
Oil: Mining level 20, tracking level 45
Gold: Mining level 45, tracking level 70
Alchemy Stones: Mining level 50, tracking level 75
Starmetal: Mining level 100, tracking level 125
Lodestone: Mining level 105, tracking level 155
Platinum: Mining level 110, tracking level 135
Orichalcum: Mining level 175, tracking level 200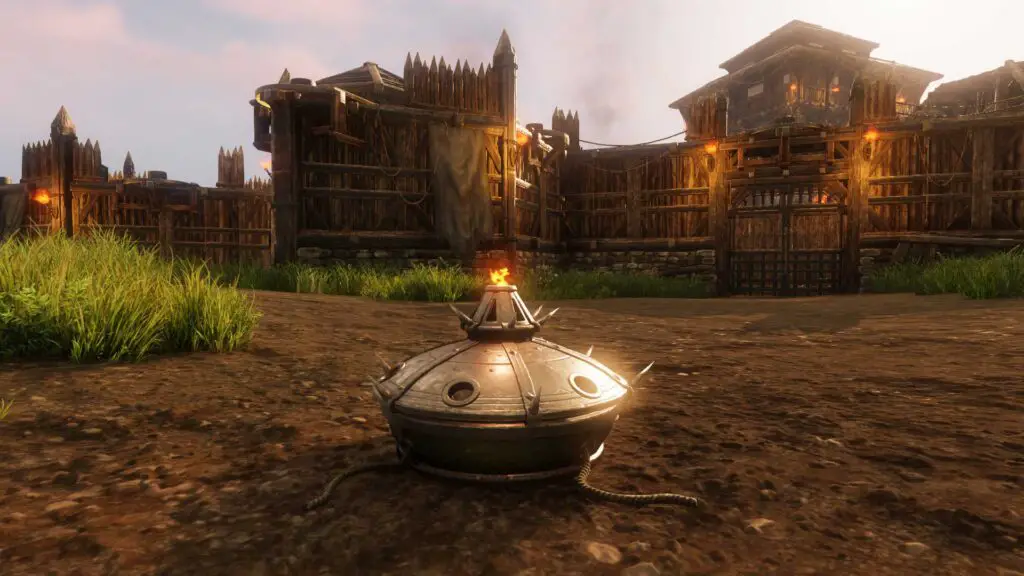 Hunt for Bonuses and Lucky Charms While You Mine
We all love little unexpected treats and gifts, don't we? But what if you could get those consistently? That's what these bonuses offer you in the New World. If you have received enough experience to get at a certain level for mining and tracking, you can avail yourself of the opportunity of utilizing some perks and bonuses that help you acquire better bits and pieces of mining. 
If you use the following three charms, you're in for a real treat as you wander around and mine here and there.
Steel Miner's Charm: This charm has the Prospector's Discipline perk and while using this, the player's mining experience increases by 9.4% and can increase the mining speed or accuracy with this.
Starmetal Miner's Charm: Looking for rare metals? A Starmetal Miner's Charm is a Mining Luck perk and does wonders as it blesses you with a bonus as you look for the rare resources by a 9.3%!
Orichalcum Miner Charm: This is known as the Mining Yield Perk and offers 19% to the mining and harvesting resources in the New World.
Upgrading the Gathering Tools Improves Yield and Quality
In New World, your initial mining tool is a flint pickaxe and its mining speed is 100%. While this feels like a good deal to start with, it isn't. If you have some gold to spend or you have other means or skills leveled up to gather things, bring them to good use. You can use the gold at a trading post to upgrade your pickaxe and increase its abilities and quality by over 100%. For example, if you upgrade your pickaxe to an iron mining pickaxe, your harvesting speed is increased to 125%-139% as per your attributes.
Rank Up in Reputations As Soon As You Can
Ranking up in reputations is one of the first things any New World player should be opting for. The moment you reach Territory Standing in a region, you get to choose one of the 3 upgrades available. Note that these differ each time so you'll need to be as tactful as you can. This is one of the highest priority means of making your mining or gathering skills faster. 
If at any given moment you get the option to opt for any upgrade like "Increasing Gathering Speed by 3.0%" for instance, you should go for it. With this option intact, you will be able to amp up your gathering speed progressively.
Consume Foods to Increase Your Mining Luck
Yes, you read that right! In the New World, food can increase your Mining Luck and is a highly preferred means of increasing it because it doesn't require too much hard work. Plus, it improves your chances of acquiring high-end resources as well so it's a win-win situation for you!
If you're looking for such foods, we have you covered right here. Get these delicious delicacies made and eat them to improve your chances of getting high-level resources.
Roasted Potatoes
The roasted potatoes provide you an increase in your Mining Luck by 1000 points for 20 minutes.
Herb-roasted Potatoes
Get yourself stuffed with these potatoes and you're awarded Mining Luck of 1400 points and that too for 25 minutes. An increase in 5 minutes can do wonders too!
Boiled Potatoes
Who doesn't like boiled potatoes? In New World though, it is an excellent source of food that increases 1700 points for your Mining Luck for 30 minutes.
Poultry with Roasted Potatoes
How about some protein and carbs together? That is what Poultry with Roasted Potatoes does for you. Stuff yourself with these as it yields Mining Luck for you by 1900 points for 35 minutes.
Salted Roasted Vegetables
This is just as good and easy as it gets. A meal of Salted Roasted Vegetables might sound delicious in real life but in the New World, it's the best source of food which results in the progression of your Mining Luck by 2000 points. This lasts for a whopping 40 minutes!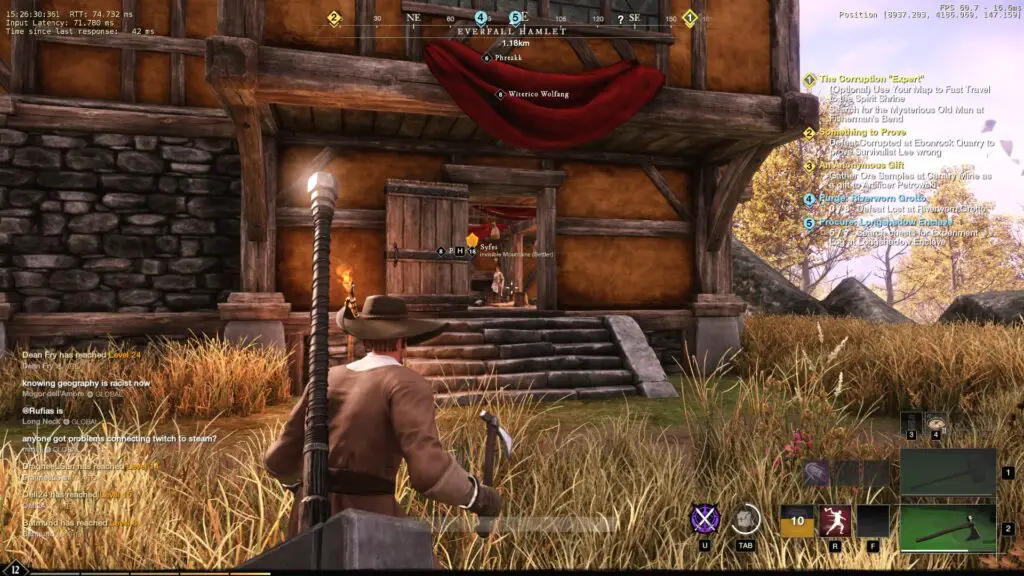 Make Use of Strength Attribute
Another great way to make your mining more effective and proficient is by adding the Strength Attribute to it. This is a bonus attribute you can add to your mining ability that benefits you in more than just one way. However, at times you might not be able to hit readily and effectively. To ensure that doesn't happen, you need to max the bonuses which happen by leveling up.
These are the following bonuses you can receive based on your strength points:
50 Strength Points: +10% Mining speed
100 Strength Points: +20% encumbrance
150 Strength Points: -10% weight of mined resources
200 Strength Points: +10% Mining speed
250 Strength Points: +10% Mining yield
300 Strength Points: 25% chance to mine ore with one swing
Conclusion
New World has become one of the top-grossing games in the past few years and has all the pointers to state why. This massively multiplayer online role-playing game has only been around for a few months at max but soon became the talk of the town.
Needless to say, Amazon Game Studios has done an exceptional job to make New World become one of the most popular games of the generation. This game gives the players a complete package of adventure, strategy, and tactics as well action. Mining to find rare items, increase abilities and make your character stand out is what makes the game very much interesting. But it doesn't come as easy as it sounds. 
To mine in the New World requires a lot of patience, motivation, and consistency. But there are always things people have in their bags but choose not to show. It's not the same here. With these tips and tricks, you are now more than ready to go all out in the New World. Be it a rookie or an experienced gamer, these tips are going to help everyone get better at mining and also faster. So what's stopping you from reaching to the top like an ace anymore? Happy gaming!